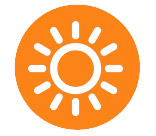 Los Angeles is known around the world for our sunshine and I want us to also be known as the solar capital of the world," said Councilmember Garcetti. "This forward-thinking solar program will help us decrease our reliance on dirty fossil fuels while creating jobs that our communities need." — Eric Garcetti, Mayor, City of Los Angeles (former LA City Councilmember, 13th District)
Rooftop Solar Generates a New Income Stream

If you have an idle rooftop in Southern California, don't just sit on it—start making some money today by using it to produce clean energy.
Renewable energy — solar energy in particular — is one of the fastest growing markets in the country and sunny Southern California is in the vanguard. The cost to install solar has dramatically decreased. Solar is ready to power America's new energy economy.
There are 2 incentive programs offered by utilities in the Los Angeles area that can help you put your roof to work.
Absolutely Profitable
Today's renewable energy market presents many challenges and opportunities. Emerging federal and state programs are presenting increasingly tough environmental requirements and looking for ways to provide clean energy resources and infrastructure. Solar electricity is making a major contribution to both the future global electricity supply and in lessening the negative effects of climate change. Solar energy is one of the cleanest energy sources that can be harvested sustainably and there is growing consensus that this sector is entering a significant build cycle over the next 20 years.
Investment Options
In return for making the roof available, there are several ways that we can provide compensation to the building owner:
• Allow the owner to participate in the system's income stream and/or use the available tax benefits (30% immediate tax credit, plus accelerated depreciation)
• Develop and build the system so that the rooftop owner can own it and reap all of the available economic and tax benefits
• Pay a periodic lease fee to the rooftop owner (for 20 years)
In order to enhance the benefits to the roof owner, for most roofs, we can rehabilitate the existing roof, provide for regular "tune-ups" and insure and warranty the rehabilitated roof for 20 years.
If you have an idle rooftop in Southern California, don't just sit on it — start making some money today by using it to produce clean energy.
It's good for the environment and your bottom line.
Where should you look for advice and guidance for investing in solar energy development and stocks?
Absolutely Solar delivers marquee utility-scale solar energy projects to show that sun powered energy can be achievable and profitable. The six ASI developed solar PV facilities acquired by European company Eosol will provide 10.5 MW of power to SCE and were among the first to sign PPA's under the utility's CREST program (also know as feed-in-tariff). These projects are expected to generate nearly 13,500,000 kWh annually, which is roughly equivalent to offsetting the electricity consumption of more than 2,250 average U.S. homes.
Now, Absolutely Solar is actively seeking institutional investors and high‐net worth individuals who are looking for a yield‐based alternative to their Federal tax liability while advancing renewable energy projects. These new projects will be specifically designed to:
Reduce or eliminate eligible federal income tax liability
Provide investor cash flow
Improve the environment while providing clean energy alternatives to stimulate adoption of solar power
There are immediate, productive steps you can take to move in this direction.